XTRA LARGE Business Hosting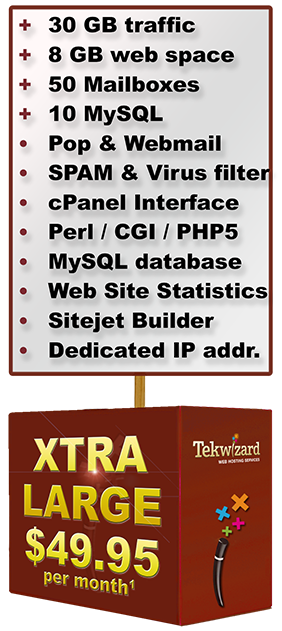 This hosting package is the right choice for your large business needs. It includes a dedicated IP address - required for secure SSL certificates* guarding your site, 30 email addresses 10 MySQL databases and 10 ftp accounts. A generous 25GB of trafic allowance will suit most busy web sites.
Install your public domain business applications using our Fantastico self-install system. This means installing programs is a matter of minutes only, without having to upload any files.
Included is web mail access and the latest SPAM and email filters. These filters are applied before the email is entering your mailbox so much less work for you to check your SPAM folders of your email programs.
Tekwizard Web Hosting uses the market leading cPanel control panel, giving you easy access to your email accounts, lets you forward mail, shows your web site statistics and more.
This hosting package is just $49.95 per month (incl. GST) and no set-up fees!
NEW - get a FREE DOMAIN (.com, .net, .org) with every yearly subscription.
Please be advised that this plan is charged quarterly.